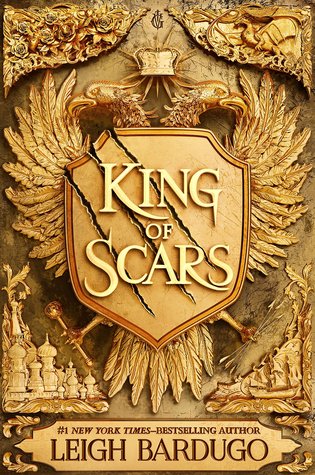 Title: King of Scars (Nikolai Duology #1)
Author: Leigh Bardugo
Publication Date: January 29, 2019
Publisher: Imprint
Pages: 528
Add to Goodreads
Nikolai Lantsov has always had a gift for the impossible. No one knows what he endured in his country's bloody civil war—and he intends to keep it that way. Now, as enemies gather at his weakened borders, the young king must find a way to refill Ravka's coffers, forge new alliances, and stop a rising threat to the once-great Grisha Army.

Yet with every day a dark magic within him grows stronger, threatening to destroy all he has built. With the help of a young monk and a legendary Grisha Squaller, Nikolai will journey to the places in Ravka where the deepest magic survives to vanquish the terrible legacy inside him. He will risk everything to save his country and himself. But some secrets aren't meant to stay buried—and some wounds aren't meant to heal.
I have been so hyped for this book ever since I first caught wind of it. Nikolai was not my favorite character in the Grisha Trilogy, but I did love him and I was very excited to see how his story played out! In case you didn't already know, I am OBSESSED with the original trilogy, but didn't much care for Six of Crows. It felt too different, but King of Scars is a nice blend of the two and it was amazing to be back in Ravka! I'm going to try really hard to keep this coherent, but no promises.
First, it's important to point out that, although this is marketed as Nikolai's book, the title is literally Nikolai, and the synopsis is 100% Nikolai, this is not really his book. There is so much more going on here, most obviously that about half the chapters are from Nina's perspective. As I said, I didn't love the Six of Crows duology, but I didn't dislike Nina here. Although I would have been just fine with it if her chapters were left out completely, I do think it was a nice way to bring together the two series.
So, let's get to Nikolai. He is the prince/privateer we all remember, but a little more grown up. To me, Nikolai was obviously a bit more mature than he was in the trilogy and I loved seeing this side of him. Of course, he still has the snark and remains full of himself. His journey in this book revolves around purging the darkness put in him by the Darkling and it is a long and fascinating one. I loved his struggle with the demon inside him and the complexity it brought to his character. I also loved his banter with Zoya, who I found myself loving even more than I already did! I definitely ship the two of them.
Speaking of shipping, there was not much romance in this book and that surprised me. While not every book needs romance, a Grisha book without anyone to swoon over didn't feel quite right. As I said, I loved Nikolai and Zoya together, so hopefully we get some of that in book two! It also seems possible that there will be a new Nina romance, but I won't say anything else to avoid spoilers.
My biggest question about King of Scars was whether or not the Darkling would be back. While it seemed a little impossible, we all know what that word means in the Grishaverse. Here's what I'll say about that: This book does a really good job of solidifying that the Darkling was a BIG BAD. I'll come right out and say he will always be my problematic fave. But there was a LOT of focus on how terrible he was in this book and I assume it may have something to do with how many readers loved him despite his being kind of awful. I still love him.
As you can see, the story is quite complex. There are multiple points of view and two to three main storylines happening at any one time. I enjoyed the entire book, but there were most definitely points where it dragged, especially the chapters with Nikolai and his crew. His story should be the most interesting, but there was quite a bit of walking and talking and sitting. At 528 pages, this is a big book and I did love it, but it could probably have been whittled down a little.
The only other thing I'll say is THAT ENDING blew me away and took this book from four stars to five in a page! I am going to be throwing one long fit between now and when book two is finally published because I cannot wait to see what happens next. I'll admit, this book was a little different than I expected, but Leigh Bardugo knows how to write a great story and I can't wait to read the next chapter!
I'm doing something I've never done before and changing my rating from 5 stars down to 3. After the initial shock of the ending wore off I thought about this book a lot. The more I thought about it, the more I realised... I really wasn't that in love with anything this book did and I was actually kind of upset about some of it. I'll leave my original review, but you can find my reasons for the changed rating in
this King of Scars discussion post
!