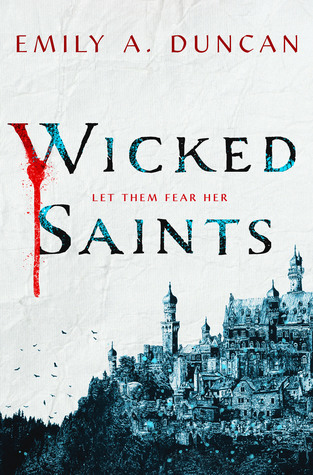 Title: Wicked Saints (Something Dark and Holy #1)
Author: Emily A. Duncan
Publication Date:
April 2, 2019
Publisher: Wednesday Books
Pages: 400
Add to Goodreads
A girl who can speak to gods must save her people without destroying herself.

A prince in danger must decide who to trust.

A boy with a monstrous secret waits in the wings.

Together, they must assassinate the king and stop the war.

In a centuries-long war where beauty and brutality meet, their three paths entwine in a shadowy world of spilled blood and mysterious saints, where a forbidden romance threatens to tip the scales between dark and light. Wicked Saints is the thrilling start to Emily A. Duncan's devastatingly Gothic Something Dark and Holy trilogy..
Wicked Saints was by far my most anticipated debut of 2019! I was SO excited when I managed to get an early copy that I immediately dived in and was sucked right into the fast paced world. Of course, there wasn't even a synopsis for this book when I started reading it, I just knew that it sounded deliciously dark and a few people said I'd love it since I ship the Darkling and Alina. Well, now that it's over I have a lot of feelings, so buckle up.
Nadya is the MC of this story and she's a cleric and can speak to the gods. Unlike most clerics though, Nadya can speak to ALL of the gods. You might say she's not like other girls... The story begins with Nadya's monastery under attack by Prince Serefin, a blood mage from a neighboring country. She goes on the run and bumps into Malachiasz and his group of rebels. From there it's the Malachiasz show.
Malachiasz is the dark, mysterious monster boy who you've definitely heard about if you follow Emily A. Duncan on Twitter. He has secrets and is super dangerous, but of course Nadya chooses to trust him and he becomes her love interest. Despite what you might think there is no love triangle, at least not in this book. Malachiasz is the true main character of this book, with Nadya being relegated to his love interest. That isn't to say their romance isn't interesting because it is. It just wasn't what I'd hoped for. Instead of being strong and powerful, Nadya becomes pretty useless as long as she's around him. She was fine, he was fine. They just weren't as amazing as I wanted them to be.
The world of Wicked Saints has great potential and it's definitely heavy on the atmosphere, but I just wanted more. Even after reading the entire book I never felt like I was in a magic filled Russian-inspired world. I honestly couldn't tell you anything about this world other than there are some gods, some crumbling cathedrals, and snow. The magic system also had the potential to be amazing. I definitely found the blood magic to be an interesting take and I really liked the exploration between the ties between religion and Nadya's magic. I just wish it had all been a bit better explained.
The story, while fascinating, was very oddly paced. The beginning jumped right into the action, which I loved, and the ending was really fast-paced (to the point of being confusing), but the bulk of this book dragged. There were some twists and turns, but much of the plot is sacrificed to make way for the romantic subplot. One thing I did love about Wicked Saints were the darker elements of the story. Although Malachiasz is clearly modeled after a certain other popular dark character, I did enjoy the uniqueness the author brought to the story with his particular dark secret. Honestly, if I continue the series it will be for this alone.
But now let's dive into my real issue with this book. It has been described again and again as being similar to the Grisha Trilogy, but I would go a step further and call it Grisha-inspired. It almost reads like fanfiction by someone who wanted Alina and the Darkling to end up together and decided to write their own book to make it happen. But this is not the Darkling and Nadya is definitely not Alina (although there is a sun saint named Alena in Wicked Saints). It is so blatant that it was honestly difficult to read this without comparing the two.
I wanted to love this book SO MUCH! Going in I expected dark fantasy and it was, but there just wasn't enough there. Wicked Saints does have some unique elements that interested me, but I didn't like the way so much of the plot was pushed aside in favor of the forbidden romance. I might continue with book two just to see what happens with Malachiasz, but I really don't know at this point.