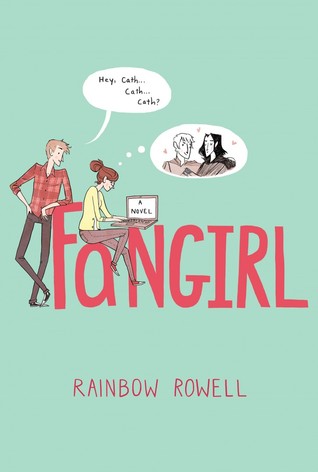 Title: Fangirl
Author: Rainbow Rowell
Publication Date: September 10, 2013
Publisher: St. Martin's Press
Pages: 438
Add to Goodreads
Cath is a Simon Snow fan.

Okay, the whole world is a Simon Snow fan..

But for Cath, being a fan is her life—and she's really good at it. She and her twin sister, Wren, ensconced themselves in the Simon Snow series when they were just kids; it's what got them through their mother leaving. Reading. Rereading. Hanging out in Simon Snow forums, writing Simon Snow fan fiction, dressing up like the characters for every movie premiere.

Cath's sister has mostly grown away from fandom, but Cath can't let go. She doesn't want to.

Now that they're going to college, Wren has told Cath she doesn't want to be roommates. Cath is on her own, completely outside of her comfort zone. She's got a surly roommate with a charming, always-around boyfriend, a fiction-writing professor who thinks fan fiction is the end of the civilized world, a handsome classmate who only wants to talk about words... And she can't stop worrying about her dad, who's loving and fragile and has never really been alone.

For Cath, the question is: Can she do this? Can she make it without Wren holding her hand? Is she ready to start living her own life? Writing her own stories?

And does she even want to move on if it means leaving Simon Snow behind?
I feel like I've said this quite a bit lately, but I rarely read contemporary fiction, especially YA contemporary. I mainly picked this up because A) everyone I've ever met in my life has told me to read it, and B) I knew that fake Harry Potter fanfic was a supposed huge part of it.
The first thing that's worth pointing out is that, while this is labeled as YA, Cath is actually in college. I know that's in the synopsis, but I somehow completely missed it. Even though I'm way past college, I felt like I was able to relate to Cath a lot more than when I read contemporary fiction about high school students. I really liked Cath because she was such an introvert. I've seen people say that they didn't like how she was written because introverts don't completely avoid social situations, but I'm an introvert and that's basically me, so... I liked her.
In addition to Cath, her twin sister Wren, roommate Reagan, and her not-boyfriend Levi. While I did really enjoy them all, I think I loved Levi the best (maybe not surprisingly). I found Reagan to be a bit one dimensional, but I did like that she helped pull Cath out of her comfort zone. The romance was cute and, while there was a tiny hint of a love triangle, I'm happy to say it didn't last very long.
I'm shocked to say that one of my biggest issues with Fangirl was, well, the fangirl herself. I loved Cath, but I was honestly annoyed by the whole fanfiction plot. I went into this book expecting to love Simon Snow and hate the college bits, but it was the exact opposite. There wasn't enough of Simon Snow for me to care about him so he seemed to be wasting pages when he did show up. I was also really confused by the inclusion of Harry Potter in this world. How do these two nearly identical stories exist together?
Something else that surprised me about this book was that there wasn't much of a plot. There was no real issue for Cath to solve other than exist at college for a semester. She went to classes, went to parties, hung out with guys, ate lunch, called her dad... I mean, I've basically done all of this too. I'm used to my books presenting some kind of unusual situation, or at least one I've never found myself in, so it was weird to read a book about a college student meandering through a semester of school.
Fangirl really wasn't what I expected it to be at all and I ended up disliking the part I expected to love, but I still really enjoyed it. I really doubt I'll read any of Rainbow Rowell's other books, though. I still am not a fan of contemporary fiction, but this wasn't a bad one to take a detour with.