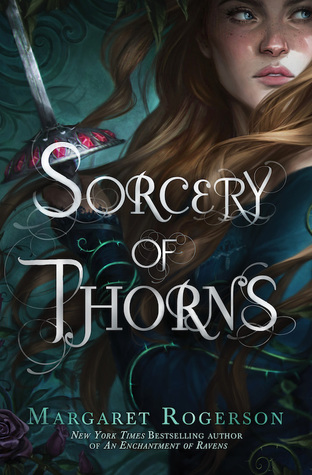 Title: Sorcery of Thorns
Author: Margaret Rogerson
Publication Date: June 4, 2019
Publisher: Margaret K. McElderry Books
Pages: 456
Add to Goodreads
All sorcerers are evil. Elisabeth has known that as long as she has known anything. Raised as a foundling in one of Austermeer's Great Libraries, Elisabeth has grown up among the tools of sorcery—magical grimoires that whisper on shelves and rattle beneath iron chains. If provoked, they transform into grotesque monsters of ink and leather. She hopes to become a warden, charged with protecting the kingdom from their power.

Then an act of sabotage releases the library's most dangerous grimoire. Elisabeth's desperate intervention implicates her in the crime, and she is torn from her home to face justice in the capital. With no one to turn to but her sworn enemy, the sorcerer Nathaniel Thorn, and his mysterious demonic servant, she finds herself entangled in a centuries-old conspiracy. Not only could the Great Libraries go up in flames, but the world along with them.

As her alliance with Nathaniel grows stronger, Elisabeth starts to question everything she's been taught—about sorcerers, about the libraries she loves, even about herself. For Elisabeth has a power she has never guessed, and a future she could never have imagined.
I've been curious about Margaret Rogerson's books since I saw the gorgeous cover of An Enchantment of Ravens. People told me how slow it was and that I'd probably have difficulty getting into it, so I never gave it a try. If Sorcery of Thorns is any indication, I am going to LOVE An Enchantment of Ravens (I've already acquired a copy). This book is everything!
Elisabeth has grown up in a Great Library, the only home she's ever known. This isn't just any library though - the books are alive and can even turn into monsters when provoked. After Elisabeth takes action against one of these monstrous tomes, she finds herself taken to the capital to stand trial for a crime she didn't commit and her only ally is a sorcerer she's been raised to distrust.
I loved everything about this book and the characters in it! Elisabeth is such a relatable protagonist and I really enjoyed following along as her prejudices against sorcerers and demons were challenged. Her entire world was turned upside down and I could definitely relate to Elisabeth trying to understand what to do next in a world she didn't understand anymore.
Nathaniel Thorn was also a wonderful character. The sorcerers in this book are recognizable but different enough from the norm to be really interesting. I loved learning more about him and the way his power worked. Speaking of his power, Silas was one of the best secondary characters I've ever read! He was a perfect blend of frightening and loveable and I would absolutely love another book all about him.
Of course, there's romance in this book and the relationship between Elisabeth and Nathaniel was ridiculously adorable and I couldn't get enough of it! It was a true slow burn romance and was full of humor and sass, but in the absolute right amount. If you've read many of my reviews, you'll know I despise characters who are non-stop snark, but Margaret Rogerson struck the perfect balance.
Apart from the characters, the world of Sorcery of Thorns is incredible! I was utterly mesmerized by this unique, magical world. The atmosphere pulled me in from page one and I have the worst book hangover from having to leave. It felt dark and magical and I can honestly say I've never read anything quite like it.
I've already touched on how much I loved this story, but I feel like I can't say much more without spoilers! It wasn't non-stop action, but I felt that the pacing was fine. I was honestly a bit worried that I wouldn't love this book for awhile there. It took me quite a bit longer to read than normal, but it may have just been the mood I was in. Still, I loved every single page, despite taking extra long to get through them.
Sorcery of Thorns is unique and the characters are some of the best I've ever had the pleasure of meeting. I cannot wait to dive into An Enchantment of Ravens and will definitely pick up whatever this author writes next!