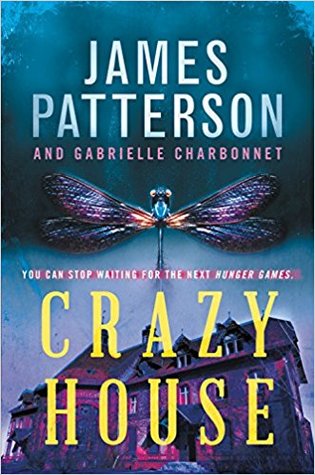 Title: Crazy House (Crazy House #1)
Author: James Patterson & Gabrielle Charbonnet
Publication Date: May 22, 2017
Publisher: Hachette Book Group
Pages: 354
Add to Goodreads
No one gets out alive.

Seventeen-year-old Becca Greenfield was snatched from her home and thrown without reason into a hellish prison known as the Crazy House. To avoid execution, she's told to shut her mouth and keep her head down.

Becca was never really good at either.

Her only hope for survival is for her sister, Cassie, to find her—that the "good twin" will stop following the rules and start breaking them, before it's too late. Because the jailers at Crazy House soon discover they made a mistake that could get both sisters killed…
I'm not sure what I expected when I picked up Crazy House, but a super intense dystopian thriller was not it. It's safe to say that I was very pleasantly surprised with this book!
Becca and Cassie are twins living in an isolated town that's the only world they've ever known. When Becca is mistaken for her twin and kidnapped to death row, both sisters realize just how big the world actually is. Cassie learns that her sister is part of a group of rebels and begins to question everything as well.
This book is wild! I don't know why it's compared to The Hunger Games because there's nothing similar about them, but it is a really fun story in its own right. I really enjoyed the world and am eager to learn more about it in the next book. I do wish more had been answered in book one, though. In fact, that's my biggest issue with Crazy House - it desperately needed more backstory.
There isn't too much to say about this book without spoilers, but if you're looking for a fast paced dystopian YA, you should definitely give this a try! Just please be aware there are instances of physical and sexual abuse in this story.