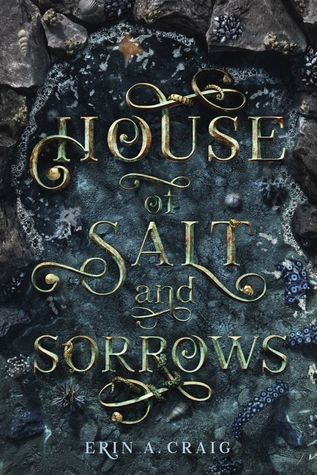 Title: House of Salt and Sorrows
Author: Erin A. Craig
Publication Date: August 6, 2019
Publisher: Delacorte
Pages: 416
Add to Goodreads
In a manor by the sea, twelve sisters are cursed.

Annaleigh lives a sheltered life at Highmoor, a manor by the sea, with her sisters, their father, and stepmother. Once they were twelve, but loneliness fills the grand halls now that four of the girls' lives have been cut short. Each death was more tragic than the last—the plague, a plummeting fall, a drowning, a slippery plunge—and there are whispers throughout the surrounding villages that the family is cursed by the gods.

Disturbed by a series of ghostly visions, Annaleigh becomes increasingly suspicious that the deaths were no accidents. Her sisters have been sneaking out every night to attend glittering balls, dancing until dawn in silk gowns and shimmering slippers, and Annaleigh isn't sure whether to try to stop them or to join their forbidden trysts. Because who—or what—are they really dancing with?

When Annaleigh's involvement with a mysterious stranger who has secrets of his own intensifies, it's a race to unravel the darkness that has fallen over her family—before it claims her next.
My absolute favorite kind of book to read is a weird, spooky fantasy retelling and let me tell you, this book was right up my alley! I really didn't know much about the fairytale this book is based on, but the cover and description immediately caught my attention.
Annaleigh's family has terrible luck. In fact, many people believe their family is cursed by the gods. Her mother died years ago followed by four of her older sisters who have died one by one and left her family in a state of perpetual mourning. After the latest tragic death, Annaleigh worries that they haven't been as accidental as previously believed and decides to take matters into her own hands.
I. Loved. Annaleigh. It isn't often that I find a main character that I absolutely adore, but Annaleigh is amazing! She is smart and brave and resilient and loves her sisters with a passion. Speaking of her sisters, there are a ton of them. Eight sisters is a lot to keep up with and I will definitely admit that I still couldn't name more than a few of them, even after finishing the book, but that didn't take away from my enjoyment of the story.
This wouldn't be a good YA retelling without a fantastic romance! At first there is a hint of a love triangle between Annaleigh, her childhood friend, and a boy she meets in town, but thankfully it is quickly resolved. And it's a good thing because the romance is so wonderfully swoon-worthy, I couldn't get enough! There was a moment when I thought that things had happened a bit too quickly, but when I realized how much time had passed in the story, I quickly changed my tune. Everything about the romance is perfect and I would love more of these characters!
Of course, this story is a retelling of the Twelve Dancing Princesses, so there has to be dancing and there is a ton of it. House of Salt and Sorrows has no shortage of magic and gods, ball gowns and dancing, but Erin A. Craig has put a whole new creepy spin on it and I loved it! The villain is not who you'd guess and the reveals are incredibly well written. This book will seriously have you second guessing everything you've read by the end. There are so many twists and turns I'm surprised I didn't end up with whiplash!
And speaking of creepiness, let's talk about the atmosphere! This author knows how to take a reader and plant them right in the middle of a new world. I felt like I could see the cliffs and feel the salt on my skin while reading this book. The world was so easy to picture, I felt like I could see myself in it without even trying. I cannot wait to see what beautiful, gothic world Emily A. Craig comes up with next!
In case it wasn't obvious, this was an amazing read! I was so invested in this mystery and the characters I couldn't put this book down. House of Salt and Sorrows is a unique, spooky YA retelling that I can see myself reading multiple times. If you're a fan of dark fantasy or retellings, definitely give this a try!