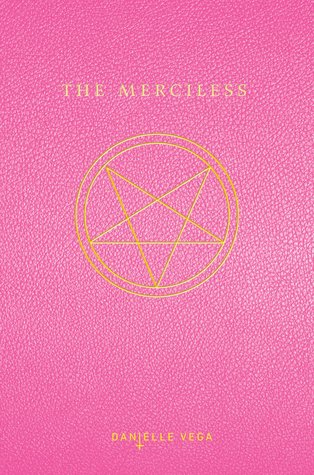 Title: The Merciless
Author: Danielle Vega
Publication Date: June 12, 2014
Publisher: Razorbill
Pages: 279
Add to Goodreads
Reviews for book 3 & book 4
Forgive us, Father, for we have sinned.

Brooklyn Stevens sits in a pool of her own blood, tied up and gagged. No one outside of these dank basement walls knows she's here. No one can hear her scream.

Sofia Flores knows she shouldn't have gotten involved. When she befriended Riley, Grace, and Alexis on her first day at school, she admired them, with their perfect hair and their good-girl ways. They said they wanted to save Brooklyn. They wanted to help her. Sofia didn't realize they believed Brooklyn was possessed.

Now, Riley and the girls are performing an exorcism on Brooklyn—but their idea of an exorcism is closer to torture than salvation. All Sofia wants is to get out of this house. But there is no way out. Sofia can't go against the other girls . . . unless she wants to be next. . . .

In this chilling debut, Danielle Vega delivers blood-curdling suspense and terror on every page. By the shockingly twisted end, readers will be faced with the most haunting question of all: Is there evil in all of us?
I just finished this and I'm sitting here wondering what the hell I just read. This book is completely insane and, let me tell you,
this is not your typical YA read
. The Merciless is chock-full of horror, gore, and suspense and kept me up late on more than one night hoping to see what happened!
The book opens with Sofia who has just moved to a new town. It's very "Mean Girls" in that she finds herself torn between the "cool kids," Riley, Grace, and Alexis, and the weird, gothic girl, Brooklyn, who everyone loves to hate. Sofia never really makes a choice between the two, but finds herself in a very unfortunate situation when Riley kidnaps Brooklyn, determined to save her from the demon she believes to be possessing her. From that point on, the suspense is palpable and left me never quite knowing what would happen next.
Somehow I managed to read this book without having read the full blurb (even though I thought I did) so everything was kind of a surprise! I've read some reviews that claim the blurb ruined everything, but even after having read it, I don't think this would be the case. I spent much of my time wondering if Brooklyn was actually possessed or if Riley just needed to be in an insane asylum. Vega writes in such a way that it is extremely difficult to know for sure.
Character development in The Merciless wasn't that impressive, but I honestly don't feel that much development is needed in the horror genre - especially in a story that takes place over a few days. The mean girls were mean, Brooklyn was weird, and Sofia was torn. There was one character that did seem to grow (or at least came to feel remorseful) and, while Sofia may not have grown as a character, per se, pieces of her character were being revealed up until the very end of the book.
The world building here was also so-so. Then again, the entire thing took place between a school and a couple houses, so not much needed to be said, in my opinion. The atmosphere was sufficiently creepy and that's really what matters to me.
Horror is (shockingly) the most important factor in the horror genre, and this book nailed it. The Merciless has it all - it made me cringe, if it was a movie it would have made me jump, it grossed me out. And the ending was totally unexpected (to me, at least). I'm disappointed that this doesn't seem to be a series, but Danielle Vega does have another horror novel in the works, according to Goodreads, and I can't wait to get my hands on it! I highly recommend The Merciless to any fan of horror.