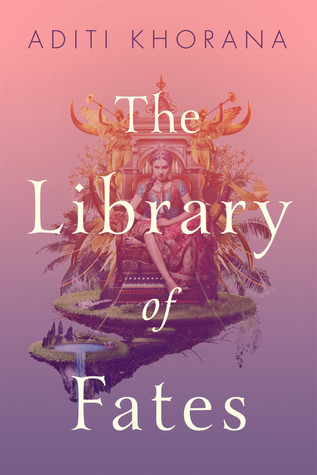 Title: The Library of Fates
Author: Aditi Khorana
Publication Date: July 18, 2017
Publisher: Razorbill
Pages: 354
Add to Goodreads
A romantic coming-of-age fantasy tale steeped in Indian folklore, perfect for fans of The Star-Touched Queen and The Wrath and the Dawn

No one is entirely certain what brings the Emperor Sikander to Shalingar. Until now, the idyllic kingdom has been immune to his many violent conquests. To keep the visit friendly, Princess Amrita has offered herself as his bride, sacrificing everything—family, her childhood love, and her freedom—to save her people. But her offer isn't enough.

The unthinkable happens, and Amrita finds herself a fugitive, utterly alone but for an oracle named Thala, who was kept by Sikander as a slave and managed to escape amid the chaos of a palace under siege. With nothing and no one else to turn to, Amrita and Thala are forced to rely on each other. But while Amrita feels responsible for her kingdom and sets out to warn her people, the newly free Thala has no such ties. She encourages Amrita to go on a quest to find the fabled Library of All Things, where it is possible for each of them to reverse their fates. To go back to before Sikander took everything from them.

Stripped of all that she loves, caught between her rosy past and an unknown future, will Amrita be able to restore what was lost, or does another life—and another love—await?
Something you may know about me if you follow my blog at all is that I love mythology, folktales, and retellings. The Wrath and the Dawn was my first foray into Indian mythology and The Star-Touched Queen was the second. Both were five star reads for me, so I was thrilled to get my hands on an early copy of The Library of Fates, especially once I saw the comparison!
Amrita is the MC of this story and she's a character I liked from the first page. Mostly because of the way her story started - with her childhood friend turned something more, Arjun. Although Amrita was undoubtedly a spoiled rich kid who had no idea how to take care of herself, I found myself sympathizing with her unfortunate arranged marriage situation and rooting for her and Arjun, to run off together and live happily ever after!
This book had a lot of great bits and pieces. I loved Amrita and Arjun, like I said. I thought Thala's backstory was fantastic! And I loved the idea of Sikander pursuing the three of them as they ran off together and dodged danger at every turn. In fact, The Library of Fates had me totally believing it would end up on my favorites shelf... until it went totally off the rails.
Be warned, this may be venturing into mild spoiler territory, but I feel like it's necessary to point out that this book probably isn't what you think it is. I expected adventure and romance and, I dunno, maybe a Library of Fates. But, while this book did technically have those elements, there was a lot of magic and talking wind and shape shifting animals and weird mystical beings without much explanation that don't really seem to serve any real purpose. Not to mention, possibly the worst case of instalove I've ever seen. "But Tracy," you say. "The blurb says Amrita has a childhood love!" Yes, reader, you're correct. That would've made a fantastic story. That's really the story I thought I was getting. But you see that itty bitty piece at the every end? The "another love" bit? I'll say no more about that.
The world, I'll admit, was interesting, but it really felt like it was trying to be The Star-Touched Queen. The writing was the same kind of lyrical style, but it just didn't work for me this time. Everything seemed far too rushed while the story simultaneously moved at a crawl. I was always waiting for things to pick up and for something truly exciting to happen! Unfortunately, it never really did. Even when the big plot points were unfolding, there was no real sense of urgency.
While I felt that the characters were well-written and easy to sympathize with, The Library of Fates had too many issues for me to truly enjoy. The rushed plot and elements that just didn't make much sense left me wanting and honestly wishing the story more closely resembled the synopsis. If you go into this book knowing that it's really heavy on the folklore and expecting extreme instalove, maybe you'll enjoy it more than I did.