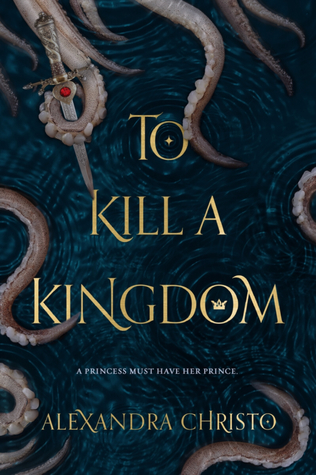 Title: To Kill a Kingdom
Author: Alexandra Christo
Publication Date: March 6, 2018
Publisher: Feiwel & Friends
Pages: 384
Add to Goodreads
//I received this book from the publisher in exchange for an honest review//
Princess Lira is siren royalty and the most lethal of them all. With the hearts of seventeen princes in her collection, she is revered across the sea. Until a twist of fate forces her to kill one of her own. To punish her daughter, the Sea Queen transforms Lira into the one thing they loathe most—a human. Robbed of her song, Lira has until the winter solstice to deliver Prince Elian's heart to the Sea Queen or remain a human forever.

The ocean is the only place Prince Elian calls home, even though he is heir to the most powerful kingdom in the world. Hunting sirens is more than an unsavory hobby—it's his calling. When he rescues a drowning woman in the ocean, she's more than what she appears. She promises to help him find the key to destroying all of sirenkind for good—But can he trust her? And just how many deals will Elian have to barter to eliminate mankind's greatest enemy?
I will admit, I didn't know much about To Kill a Kingdom when I picked it up other than that there was a lot of hype surrounding it. I expected standard YA fare, maybe some instalove, but this book delivered! Say hello to my first five star read of 2018!
Princess Lira is the MC of this story, and she is a siren. More specifically, she's the daughter of the Sea Queen. Her life has been brutal and she has spent her childhood gaining a reputation as a prince killer. When her mother turns her into a human, Lira is forced to live as one of them in order to get close enough to kill Prince Elian.
I loved both these characters so much! In fact, I loved them all. Lira is brutal and strong and amazing and I loved her. I also loved Prince Elian, who was completely not who Lira (or I) expected him to be. I adored the chemistry between these two characters and loved watching them not trusting each other. I love the enemies to lovers trope so much and, although it goes wrong so often, Alexandra Christo wrote it perfectly! Thankfully, no instalove in sight and the romance is written convincingly, even though you know what's going to happen from page one.
One of the things that makes To Kill a Kingdom so great is the incredible cast of secondary characters. The Sea Queen was honestly kind of terrifying in a way that not many villains achieve and I loved it every time the threat of her was near. I thought Elian's crew and Lira's cousin were all well fleshed out, important side characters and I loved them all!
The world building was also fantastic, blending multiple cultures and mythologies seamlessly. I felt like I could picture each new setting in my mind and, following the characters on their journey, I could almost imagine I was with them! The pacing is also great, not at all too slow. It was just enough to keep me interested with some totally crazy action thrown in here and there.
This brings me to the absolutely amazing plot of To Kill a Kingdom! Confession: I've never read a siren story that I really enjoyed. To Kill a Kingdom did sirens the right way. They are fierce and terrifying. I loved following Lira from that undersea world into one that was totally unfamiliar and watching her go from a girl on a murderous mission to one completely different was thrilling! There were real stakes and urgency and I feel like I'm started into fangirl territory.
To Kill a Kingdom was the biggest surprise I've had this year! I was surprised when it showed up in my mailbox and I was surprised when I absolutely loved it! Although I thought it had an absolutely perfect ending, I am a little sad that there won't be a part two. Alexandra Christo has definitely won a space on my autobuy authors list! Whether you're a fan of sirens and mermaids or not, I highly recommend you pick up a copy of this book!