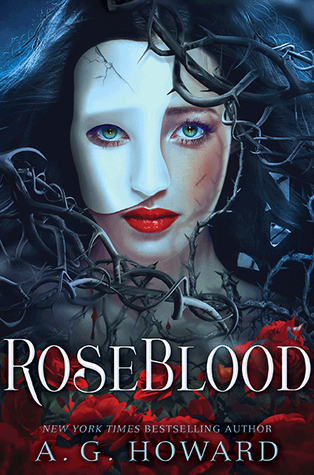 Title: RoseBlood
Author: A.G. Howard
Publication Date: January 10, 2017
Publisher: Amulet Books
Pages: 432
Add to Goodreads
//I received this book from the author in exchange for an honest review//
In this modern day spin on Leroux's gothic tale of unrequited love turned to madness, seventeen-year-old Rune Germain has a mysterious affliction linked to her operatic talent, and a horrifying mistake she's trying to hide. Hoping creative direction will help her, Rune's mother sends her to a French arts conservatory for her senior year, located in an opera house rumored to have ties to The Phantom of the Opera.

At RoseBlood, Rune secretly befriends the masked Thorn—an elusive violinist who not only guides her musical transformation through dreams that seem more real than reality itself, but somehow knows who she is behind her own masks. As the two discover an otherworldly connection and a soul-deep romance blossoms, Thorn's dark agenda comes to light and he's forced to make a deadly choice: lead Rune to her destruction, or face the wrath of the phantom who has haunted the opera house for a century, and is the only father he's ever known.
Two things drew me to RoseBlood. First, it's written by A.G. Howard who has literally never disappointed me. I adored her
Splintered
series and am already in love with the
Haunted Hearts Legacy
. Second, I am HUGE Phantom fan. I've read the book and its unofficial sequel and I've seen the broadway show and its official sequel. When I saw that one of my favorite authors was writing a retelling of one of my favorite stories, I knew I would have to read it as soon as possible!
The very first thing I realized about RoseBlood was that it wasn't actually a retelling, but more of a modern day continuation of the original story. Of course, the Phantom is still a key figure in this story. If you're asking yourself how that's possible in a modern-day continuation of his story from the 1800s, just trust me when I say it all works out. Apart from Erik, there are two main players - Rune, a gifted singer and RoseBlood's newest student, and Thorn, who regards the Phantom as his father.
Both Rune and Thorn were fantastic characters and this really was
their
story. On their own, each of them are strong, talented characters with their own tragic pasts to contend with. I loved Rune and found her to be extremely easy to sympathize with, more so as the story went on. I liked that she was independent while still reacting believably to danger, unlike some of the "strong women" that often show up in fantasy. Thorn was an amazing love interest who made Rune's safety his priority while always acknowledging that she was fully capable of taking care of herself. Their romance was entirely swoon-worthy! The unusual, soul-deep connection they shared gave me all the feels and honestly I would love to have seen even more of them together! (Maybe we can get novellas like we did with the Splintered trilogy?)
While the Phantom was a part of this story, he certainly wasn't the center of attention and I feel as if he was less developed than the other characters because of it. I think this was mostly okay though, since Erik is such a well-known character already. We already know his backstory and this just builds on it, often in very unexpected ways. I'll admit the additions to his story threw me off a bit, but I can definitely appreciate the originality. This Erik has a bit more to him than the one you already know.
As always, A.G. Howard has crafted a totally unique and immersive world. I felt like I could perfectly picture the gorgeous, gothic surroundings she painted from the opera house to the Phantom's lair to the chapel and the graveyard. I loved trying to work out exactly what the secret passageways would look like and how they'd work. My absolute favorite was the aviary, which you
definitely
want to know more about (trust me).
I did have a bit of a hard time getting going with RoseBlood. The story was extremely interesting, but it starts off very slow. A good chunk of the story is just Rune settling into her new school, meeting new friends, and facing off with the resident mean girls. Once things finally picked up after Rune and Thorn met, I couldn't put it down! I loved that I never quite knew what the big picture was and new things were constantly being revealed. While it ended up being much different than what I expected, I really did love it!
My biggest gripe about RoseBlood is that it started so slow. The elements that surprised and confused me were also the bits that made this such a unique continuation of the Phantom's story. If you go into RoseBlood without too many preconceived ideas about what you're going to read, chances are you're going to love it! A.G. Howard has created a gorgeous world with amazing new characters to integrate with the old and the romance is to die for! If you're a fan of retellings or Phantom of the Opera, this is one you definitely shouldn't miss.