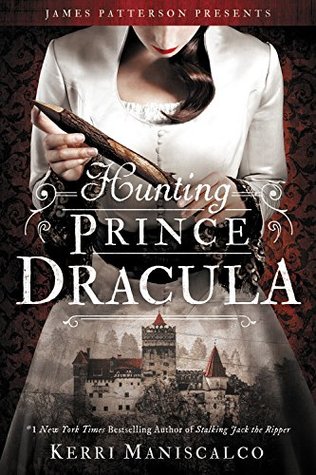 Title: Hunting Prince Dracula (Stalking Jack the Ripper #2)
Author: Kerri Maniscalco
Narrator: Nicola Barber
Publication Date: September 19, 2017
Publisher: Little, Brown & Company
Length: 11 hours, 58 minutes
Add to Goodreads
Reviews for book 1 & book 3
In this New York Times bestselling sequel to Kerri Maniscalco's haunting #1 debut Stalking Jack the Ripper, bizarre murders are discovered in the castle of Prince Vlad the Impaler, otherwise known as Dracula. Could it be a copycat killer...or has the depraved prince been brought back to life?

Following the grief and horror of her discovery of Jack the Ripper's true identity, Audrey Rose Wadsworth has no choice but to flee London and its memories. Together with the arrogant yet charming Thomas Cresswell, she journeys to the dark heart of Romania, home to one of Europe's best schools of forensic medicine...and to another notorious killer, Vlad the Impaler, whose thirst for blood became legend.

But her life's dream is soon tainted by blood-soaked discoveries in the halls of the school's forbidding castle, and Audrey Rose is compelled to investigate the strangely familiar murders. What she finds brings all her terrifying fears to life once again.
I will admit, I was in no hurry to read Hunting Prince Dracula (obviously, since it took me almost a year to get around to it). I enjoyed Stalking Jack the Ripper, but I didn't particularly love it. I had a hard time connecting to the main character and just found the book to be okay. But when I found out I'd get a chance to read book three in the series early, I decided to give the audiobook a try just to see and I'm so glad I did!
Audrey Rose and Thomas Cresswell are back, this time on their way to attend a school in Romania. On their way, they encounter a murder on the Orient Express (I chuckled) and that sets the tone for the book. Once at the school in Romania, things really pick up and I quickly realized I was going to enjoy this installment a lot more than the first.
While I found the romance between Audrey Rose and Thomas to be a bit silly and underdone in Stalking Jack the Ripper, in this book I really felt that they came into their own as a couple. There were moments that I still found myself getting annoyed at Audrey Rose's constant lamenting about the impropriety of it all, but I can partially forgive it because of the time period Hunting Prince Dracula is set in. They still had the same fun banter from the first book, but there was less ridiculous tiptoeing around one another and more actual relationship building.
I also really loved the setting of the school much more than the streets of London! I have a morbid fascination with Vlad the Impaler retellings and this one, while not quite a normal retelling, had me on the edge of my seat. The atmosphere of the Romanian castle was amazing! I loved creeping around the halls and secret passages with the characters as they tried to discover who the killer was. The larger mythos and world building was also very well done and I enjoyed the insight into the story of Vlad and his heirs, although I knew a bit of it already from reading the And I Darken trilogy.
And of course, I have to talk about the murders and the mystery! When combined with this setting, the murder mystery worked so well for me. Kerri Maniscalco writes a great mystery, something that isn't always the case in YA. I truly was kept guessing until the very last minute, which was also the experience I had with book one. I'd almost like to read it again, knowing who the killer is, to see if I can pick up on any clues.
While I did enjoy Hunting Prince Dracula much more than book one, it wasn't perfect. Like I already mentioned, I still had a bit of trouble connecting with Audrey Rose, partially because of her constant talk about how her family name would be ruined/she'd be scandalized/she'd no longer be welcome in society if she was caught doing basically anything near Thomas. Again, I understand why, but it got old pretty quickly. Still, this book was so much fun and I'd definitely recommend it to murder mystery fans, even if you didn't love the first one!