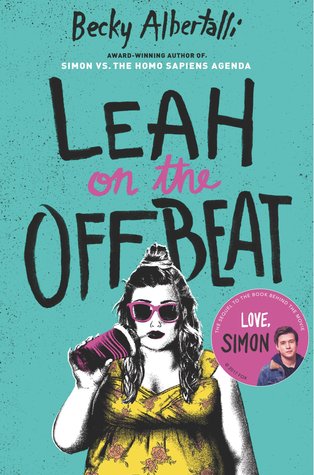 Title: Leah on the Offbeat (Creekwood #2)
Author: Becky Albertalli
Publication Date: April 24, 2018
Publisher: Balzer + Bray
Pages: 343
Add to Goodreads
Leah Burke—girl-band drummer, master of deadpan, and Simon Spier's best friend from the award-winning Simon vs. the Homo Sapiens Agenda—takes center stage in this novel of first love and senior-year angst.

When it comes to drumming, Leah Burke is usually on beat—but real life isn't always so rhythmic. An anomaly in her friend group, she's the only child of a young, single mom, and her life is decidedly less privileged. She loves to draw but is too self-conscious to show it. And even though her mom knows she's bisexual, she hasn't mustered the courage to tell her friends—not even her openly gay BFF, Simon.

So Leah really doesn't know what to do when her rock-solid friend group starts to fracture in unexpected ways. With prom and college on the horizon, tensions are running high. It's hard for Leah to strike the right note while the people she loves are fighting—especially when she realizes she might love one of them more than she ever intended.
Back about a month or so ago I had the chance to read Simon vs. the Homo Sapiens Agenda and really liked it. The humor that Becky weaved into that book made me want to read absolutely everything that she has ever written. When I heard that this book was coming out I knew I just had to get and read it! I also got to hear her talk more about this book at Epic Reads day which made me want to read it even more!
I tried to read Leah on the Offbeat a bit slower and try to take it in, but I ended up finishing it in two days as I wanted more yet didn't get it. Don't get me wrong, there were some fantastic bits to this book, it just didn't live up to its predecessor.
The humor was fantastic yet again! I really need to start taking lessons from Becky so I can add some humor like hers into my writing. I often found myself laughing out loud, in the weirdest of places, because this book had parts that were just that funny. Leah has the best sense of humor ever. Such a typical Slytherin!
I also loved that we got to see all the characters from the first book as well. Simon is the cutest little cinnamon roll ever! He will forever be one of my favorite characters ever. This book also had so much diversity, which is really nice to see now-a-days.
One of the things I really didn't care for was the fact that the plot line was everywhere. It went from one character doing something that affected Leah, to Leah complaining about her life, and then she would hurt somebody or make somebody mad, and the cycle would start again. It got a bit redundant and predictable.
I couldn't stand how Leah treated some of the characters in this book. There were times that she genuinely was nice, but other times she would bite their head off for what seemed like no apparent reason. She also could have given her mom and her new boyfriend a chance. They really tried to be nice to her and she was downright nasty back. On top of that, I hated that she dragged Garrett around and toyed with his feelings. It made me want to reach through my book and beat some sense into her.
I also felt absolutely nothing when it came to this romance. There was very little build up at all and then it's over. It was almost nonexistent for a large majority of this book. To me it felt like she didn't know what to write at the end and was like, crap, I didn't do the romance yet, *writes it in*.
Plus, there are so many loose ends in this book. I have been left with so many questions that I really want answers for. I won't get into too many details as I don't want to prevent spoiling any of y'all, but it's a bit ridiculous. I need answers! It frustrates the crud out of me when a book leaves me with way more questions than answers.
With that said, I still did kind of like Leah On the Offbeat, but it really just wasn't my cup of tea. I do wish that it could have been done a bit better. Even with my dislike of this book I won't just give up on Becky's writing just yet.