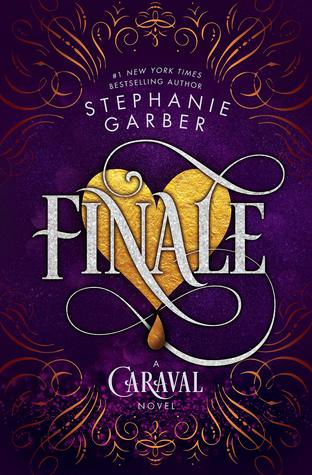 Title: Finale (Caraval #3)
Author: Stephanie Garber
Publication Date: May 7, 2019
Publisher: Flatiron Books
Pages: 496
Add to Goodreads
Welcome, welcome to Caraval...all games must come to an end.

It's been two months since the last Caraval concluded, two months since the Fates have been freed from an enchanted deck of cards, two months since Tella has seen Legend, and two months since Legend claimed the empire's throne as his own. Now, Legend is preparing for his official coronation and Tella is determined to stop it. She believes her own mother, who still remains in an enchanted sleep, is the rightful heir to the throne.

Meanwhile, Scarlett has started a game of her own. She's challenged Julian and her former fiancé, Count Nicolas d'Arcy, to a competition where the winner will receive her hand in marriage. Finaly, Scarlett feels as if she is in complete control over her life and future. She is unaware that her mother's past has put her in the greatest danger of all.

Caraval is over, but perhaps the greatest game of all has begun―with lives, empires, and hearts all at stake. There are no spectators this time: only those who will win...and those who will lose everything...
I can't believe Caraval is over! This is a series I was totally out of the loop about when everyone else was super hyped for book one. I stumbled into an ARC of that one and have been completely obsessed ever since. There was a moment when I didn't think I'd have the chance to read this one early, but a friend made it happen and now... it's over. And that makes me sad.
Finale is a much different book than Caraval and Legendary. In both of those books, the game of Caraval is a key plot device and each book has one sister as a main character. Here, the game is officially over and both Scarlett and Tella must work together to save everyone from the fates who have been released.
In Legendary, Tella became my favorite character. I loved her romance with Dante and even liked the love triangle that included Jacks! This book was no different. I still liked Scarlett, but Tella is by far my favorite. I love how fierce she is and how far she was willing to go to save those she loved. Scarlett is fine, but something about her held me back from truly loving her like I did in Caraval. Some of that may have had to do with the ridiculous game she started between Julian and the Count. Thankfully, that didn't last long.
Of course, (of course!) there's romance. Julian and Scarlett are still amazing together, but I was LIVING for the love triangle between Tella, Legend, and Jacks. I can't believe I'm saying I loved a love triangle, but here we are. It's just so convincingly written and both love interests are so magnificent in their own way. I was pleased with how it wrapped up in the end as well, although I really hope the other character ends up with his own book in the future.
The plot here, as I said, does not revolve around the game of Caraval, and that created a very different tone for this book. While the first two had a very clear sense of urgency, this one did not feel quite the same. I loved the game and the magic it brought to the world. While there is definitely still magic in Finale, it just
felt
different. I thought the Fates were interesting and I did like the way everyone was forced to work together to solve the problem they presented, but it did almost feel like a different series at times.
This book was again set in the same location as Legendary, but the world was fleshed out quite a bit more. Instead of being mainly set in a couple districts, this time there was a lot more exploration, even into hidden, fated places. I loved the extra lore of the Fates, the Fated Place, and Fated Objects! I'm all about complex mythologies in fantasy and I think Stephanie Garber did a good job with this world. I really hope there are spin off books so that even more can be explored.
I did love Finale! The Caraval magic was lacking throughout a lot of the book just because the game wasn't a part of it, but there was still magic there. The romances all did all get the attention they deserved as well, which I really appreciated, and I also enjoyed the additional lore and world building. The ending of this book is wrapped up nicely, but also leaves the possibility for more and I really hope we get it! There are so many stories waiting to be told in the world of Caraval and I can't wait to see what Stephanie Garber writes next!