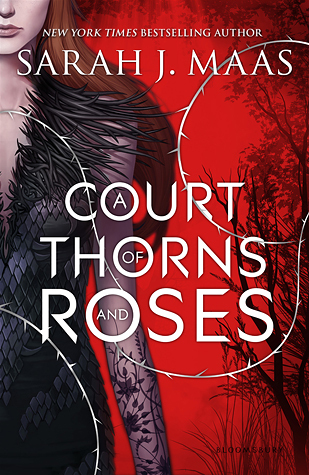 Title: A Court of Thorns and Roses (ACOTAR #1)
Author: Sarah J. Maas
Publication Date: May 5, 2015
Publisher: Bloomsbury Children
Pages: 416
Add to Goodreads
A thrilling, seductive new series from New York Times bestselling author Sarah J. Maas, blending Beauty and the Beast with faerie lore.

When nineteen-year-old huntress Feyre kills a wolf in the woods, a beast-like creature arrives to demand retribution for it. Dragged to a treacherous magical land she only knows about from legends, Feyre discovers that her captor is not an animal, but Tamlin—one of the lethal, immortal faeries who once ruled their world.

As she dwells on his estate, her feelings for Tamlin transform from icy hostility into a fiery passion that burns through every lie and warning she's been told about the beautiful, dangerous world of the Fae. But an ancient, wicked shadow grows over the faerie lands, and Feyre must find a way to stop it . . . or doom Tamlin—and his world—forever.

Perfect for fans of Kristin Cashore and George R. R. Martin, this first book in a sexy and action-packed new series is impossible to put down!
Warning: This review contains a lot of all caps, exclamations, and flailing. And I'm kind of going to do a lot of comparisons between the movie and the retelling.
Like everyone else, I saw this book ALL OVER THE PLACE for months leading up to its release. Apparently unlike everyone else, I didn't actually pay attention to what it was about. I knew it was written by the author of Throne of Glass, which I still haven't read. What I didn't realize was that it was a Beauty and the Beast retelling. Don't ask me how I missed that bolded text at the top of the synopsis.
I have skills.
Once I took a good look at the book on the shelf at Target I thought I might faint from excitement. A part of me was really irritated that I'd somehow missed it, but then again, at least I wasn't dying of anticipation for months like the rest of you!
Let's be real for a second. I've had a crush on the Beast since before I knew what having a crush was. When I thought boys were icky, I thought the Beast was the real deal. So, while I love most all retellings, I am a huge sucker for BatB retellings! After
Cruel Beauty
blew my mind earlier this year, Sarah J. Maas had a lot to live up to. And HOLY CRAP did she deliver!
I've found the whole fairy (faery? fae? you know what I mean) angle to be really hit or miss over the years. Some books have it and some just totally miss the mark. I wasn't sure how making my Beast a fairy was going to work out, but A Court of Thorns and Roses totally pulled it off.
Tamlin (Beast) was totally, 100% amazing. I absolutely LOVED the fact that he could shift between "man" and beast because it made my love of the Beast seem way less creepy. I liked that he wasn't exactly what I'd expect from the Beast. He was never awkward, for example. Tamlin was a gentleman from day one, which kind of threw me off a little, but it was honestly pretty refreshing. I feel like there are way too many jerk "heroes" in YA fiction these days, so it was nice to have one who wasn't an ass. Don't get me wrong, he wasn't warm and cuddly, but he was never outright mean either. Feyre, on the other hand...
The protagonist of this story, Feyre (Belle) was not initially likable. She wasn't particularly nice or relatable... But I will definitely say that Sarah J. Maas has mad character-writing skills because I ended up loving her. And despite the insistence in the book that her name is pronounced "Fay-ruh," it was always "Fair" in my head, because really? That's what it looks like. And... well, Belle/Fair. Come on.
Anyway, she was a total badass even when she was afraid and everything she did was ultimately selfless. She was an amazing character all around, despite the fact that she started out as kind of a not nice person.
Even the secondary characters in the book were amazing. I absolutely loved Lucien and, yes, even Rhysand, though he was supposed one of the bad guys. The big bad in A Court of Thorns and Roses is equally well-written and completely terrifying, although she isn't fully revealed until late in the book.
The world building was just as fantastic as the characters! I loved learning all about every part of the fairy world! I really enjoyed the map at the front of the book. I spent more than a couple minutes referring back to it. Every place Feyre went was almost tangible! Tamlin's estate itself was so much fun to explore with Feyre, getting to know all of the rooms as she did.
Just in case I haven't made it clear, I absolutely LOVE what was done with the story here! Not only is the Beauty and the Beast story totally recognizable and familiar, but there are so many new elements that it's just endlessly exciting and amazing and OMG I need book two to come out like, yesterday! The magical backstory added so much! I even loved that everyone was stuck wearing super mysterious masks...
But my absolute favorite thing about this book is that there were so many scenes that brought my love of the movie directly onto the pages... For example, this one:
I'll leave it at that, but suffice it to say there were others that nearly made my little heart explode with giddiness!
A Court of Thorns and Roses is Beauty and the Beast for adults and it is perfect in every way! May 2016 honestly can't get here fast enough!