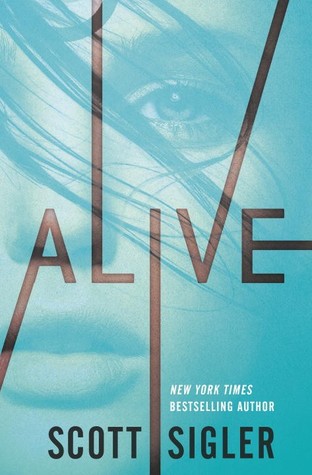 Title: Alive
Author: Scott Sigler
Narrator: Emma Galvin
Publication Date: July 14, 2015
Publisher: Del Rey
Add to Goodreads
From New York Times bestselling author Scott Sigler comes something utterly new: a gripping sci-fi adventure trilogy in the vein of The Hunger Games, Divergent, and The Maze Runner. A group of young adults awake in a mysterious enclosed space with no knowledge of who they are or how they got there…and an indomitable young woman must lead them not only to answers but to survival.

A young woman awakes trapped in an enclosed space. She has no idea who she is or how she got there. With only her instincts to guide her, she escapes her own confinement—and finds she's not alone. She frees the others in the room and leads them into a corridor filled with the remains of a war long past. The farther these survivors travel, the worse are the horrors they confront. And as they slowly come to understand what this prison is, they realize that the worst and strangest possibilities they could have imagined don't even come close to the truth.
This review will have to stay really vague because, trust me, you do NOT want to know what to expect in Alive! As I tend to do, I went into this one not knowing very much about it other than the Goodreads synopsis. This is the kind of book that keeps you totally in the dark (pretty literally in this case) until almost the very end! It's not for the faint of heart though - this is definitely one of the darker dystopians I've read.
Alive begins with our heroine, Em, waking up inside a coffin. Yes. Insid of a coffin. As in buried alive. As in nope, no, thank you! Right away this book is immensely creepy. This book also immediately made me think "Maze Runner." The beginning of Alive is almost identical to the book the synopsis actually compares itself to. M wakes up in a box and doesn't know where she is, has no memories, and doesn't know her name. Sound familiar? At this point I was creeped out, yes, but I was also really skeptical. Luckily, the similarities are far fewer after this first scene.
But back to Em. She's the group's leader, although she can't figure out why and everyone who hears this thinks it's a joke. She's brave when she has to be, a fighter when she needs to pull out the moves, and she doubts herself constantly. This kind of character can really go either way, but I feel like these characteristics worked in Alive. I liked Em and felt like she was a really strong character, but with flaws that made her human. I could understand her doubts and her fears freaked me out too.
I also really enjoyed many of the other characters. Each had a distinct personality although none of them had a clue about anything either. I did feel like there were too many names thrown around without people to attach them too, but perhaps more of those personalities will come to the forefront in the next book. There was no real romance in Alive - more like a few butterflies here and there - and, given the circumstances, I can really appreciate that.
I can't say much about the world of Alive without giving things away, but I will say that it was amazing! Some authors have the ability to make their readers -see- their settings, and Scott Sigler has that. I felt like I was right there with M and her companions and it made this book that much more unique! From the very first page, the action is non-stop and I was constantly on my toes, not knowing what to expect next.
My only real (minor) complaint is that I feel like it could have probably been a lot shorter... There was a lot of walking through hallways, which I DO understand based on things that are learned throughout the book. I just remember finishing it and thinking that they could have left out some of the group marches.
While Alive started out on shaky footing because of it's uncanny similarity to The Maze Runner, it quickly took off in its own direction and really blew me away! I was never quite sure what to expect and I love that in a book. One of my favorite things is being kept in the dark until the big twist so this book really won me over so I'll definitely be reading book two! If you're a fan of dystopia and are tired of the same old thing, this should be the next book on your list!
---
°o°
Notes on the Audiobook
°o°
While Emma Glavin did grow on me by the end of this book, she did have some qualities that were really irritating. Every single sentence ended on a high note. It was as if she was freaking out from the first sentence all the way till the last. I understand the sense of urgency this book has so I guess maybe that's why she read it such an... excited(?) tone. I just didn't love it.